How To
How to Apply for CPEC Internship Program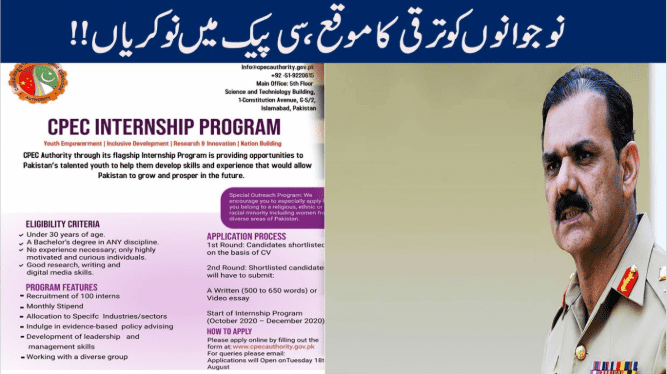 CPEC (China-Pakistan Economic Corridor) Authority Chairman Lt Gen Asim Saleem Bajwa announce the launch of CPEC internship Program.
In a two-part tweet, the Asim Saleem Bajwa said within the spirit of youth empowerment, CPEC offers the youth of Pakistan a chance to develop skills and experiences that might allow Pakistan to grow and prosper within the future.
He said the internship is an inclusive, national project, that specializes in human and social development and can involve 60 per cent of youth.
The CPEC Internship Program is 3 month base program. Start from from October 2020.
The applications for the internship program will accepted from August 18, 2020.
The applications for the internship program will be accepted from August 18, 2020.
CPEC Internship Program Eligibility Criteria:
Good research, writing, and digital media skills.
Under 30 years of age.
No experience necessary; only highly motivate and curious individuals.
A Bachelor's degree in any discipline.
CPEC Internship Benefits:
Monthly Salary.
Recruitment of 100 interns.
Indulge in evidence-based policy advising.
Allocation to Specific Sectors/Industries.
Working with a diverse group.
Development of Leadership and Management Skills.
Application Process:
Candidates shortlisted on the basis of Resume.
Shortlisted Candidates will have to submit a Video Essay or Written (500 to 650 words).
How to Apply for Internship Program:
Candidates can apply online by visiting at CPEC-centre and fill an online form.
After shortlisted the second step is the exam.
Program give you two choices of exam mention above in application process section.
Asim Saleem Bajwa also said that we are only taking applications from Pakistani nationals.
There is no minimum work experience required but applicants are required to possess some experience/background in digital media and research.
In the first stage, 100 applicants are going to be accepted. Scholarships also will tend to choose persons, said Bajwa.
Read More: How To Apply For Kamyab Jawan Program Online.