How To
Here's How to import Mobile from China to Pakistan [Guide]
Import mobile from China is pretty easy though the process does take its time. Here are the detailed steps that you need to follow to have a mobile of your choice delivered to your home:
Decide on the mobile phone you want to buy from China.
Choose an online store or Website to buy it from.
Buy your mobile phone using your desired method of payments.
Get shipment details, tracking number bill from the seller.
Track your mobile phone as it reaches in Pakistan.
Get in touch with Pakistan post office department, or let them get in touch with you.
Get Personal NOC from PTA Website.
Get your mobile phone clear from Customs at GPO.
Pay customs duties and other Taxes to the postman.
Take your mobile phone and enjoy.
And most important, be patient.
How to Import Mobile from China Detailed Process
I recently import a Xiaomi Mi Note 3 to Pakistan and all the phases I had to go through to get it.
I had already made up my mind to buy a top specced Xiaomi's Mi Note 3, an excellent premium phone. I used the seller store on AliExpress, "Xiaomi Online to buy Xiaomi Mi Note 3, there are also other reliable sellers available on Aliexpress as well. You can also buy and import Xiaomi phones from other international websites, like HonorBuy, BangGood, GearBest too.
The Price of Phone is $456 When I bought it.
Import mobile Shipment Tracking on AliExpress
I ordered it on the 14th of November, they shipped it on 18th November, it reached in Pakistan on 26th November at Karachi airport; then reached Lahore, where I live, on 1st December.
Import Mobile Shipment Tracking in Pakistan
You can also track your package after it reaches Pakistan using Pakistan Post's online tracking feature.
Once the package reached in Pakistan you need the NOC from PTA. To get NOC for mobile you have to visit the PTA website https://dirbs.pta.gov.pk/drs/auth/register_individual and signup for an account.
After Sign-Up you received email from PTA verify your account and login.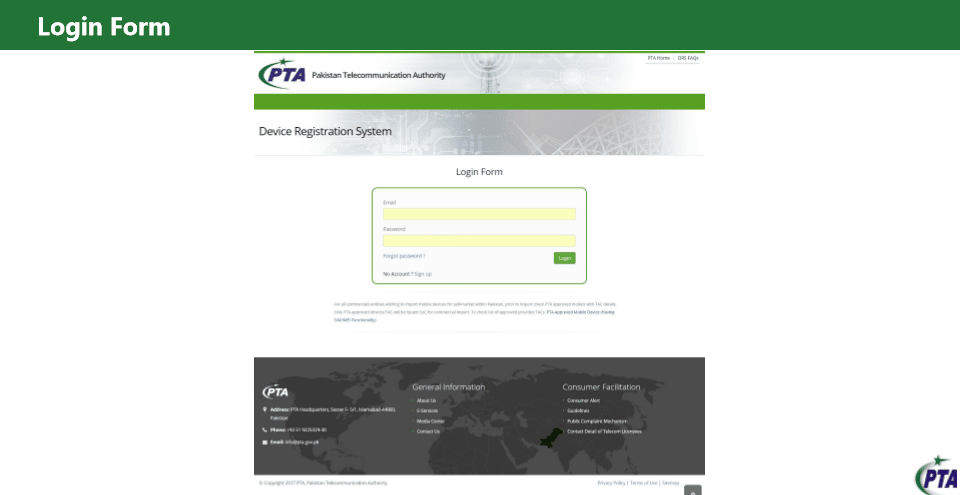 After Login.
Select User type courier services and fill other details. Here is a small problem you need your mobile IMEI number to submit an application to get IMEI when your Package reached Pakistan contact GPO(Post Office).
Read More: How to Withdraw Payoneer Payment from JazzCash
Post office procedure is that they send you a letter, called Customs Detention Letter, at your address, asking you to get an NOC from PTA but you can also get in touch with them.
This letter has an IMEI number(s) written for your NOC application to PTA. GPO will also issue a local shipment number for you to track it locally. This number is also required for your NOC application and it is written in the letter.
There are people outside the GPO they will ask you get NOC from them but i will suggest you get NOC online from PTA website.
Tracking number (given to you by the site/seller you buy your phone from).
Invoice for your phone (purchase receipt, bill or something like that. If you buy online, you can use your order's billing details' screenshot as an invoice for your application.
Scanned copy of Customs Detention Letter (the one GPO sends to you, or in my case, I got it from them at GPO).
Airway bill (it also includes the same tracking number. You can ask the store/website/seller you bought it from to send it to you via email).
IMEI Number(s) of your phone (written in the Customs Detention Letter).
Scanned copy of your CNIC (Your National Identity Card).
Local tracking number (issued by GPO and written in Customs Detention Letter).
After Submit your NOC form you can also track your NOC application.PTA usually processes personal NOC applications within the same working day (mostly within 3-4 hours). They will reject your application in case some documents are missing or wrong submitted but they will mention you what's Wrong, so you can reapply with your new application.
How to Import Mobile from China Final Process
Now you have to wait for the NOC letter it took 4 to 5 days to reach you via Pakistan Post office. When you got NOC letter go to your GPO custom office along with all other documents.
In my case when I went to the Customs Department in GPO the guy there take look at my documents, asked me the price of the mobile phone and then he online checked the price. After that he calculated the charges for $465 phone as follows:
Customs and others: 2290rs
Sales tax: 1500rs
Pakistan Post charges: 30rs
Regulatory Duty: 250rs
They asked me to sign the fees slip and asked me to go home as they do not let a person receive a phone in person. Only the postman can deliver it to you. That's also when he will get these charges from you in cash. You can't pay an equivalent at the post office.
After that, I waited for an additional two days and therefore the postman brought the phone to my home. I paid him customs duties and other charges in cash and got my phone.
I hope this guide helps others on importing their phones. Please do confine mind that you simply cannot import used phones. Only new phones are often imported. Good luck!